When launching new products or services many entrepreneurs and businesses make the mistake of assuming that they know exactly what the market wants – instead of first validating and thoroughly researching their idea. Validating demand is important because it helps you get a sense of the potential market – or lack of a market for your product or service, before spending a lot of time and money on it.
Demand evaluation using the right research tools gives you valuable information about the markets in which you intend to operate and those markets you plan to pursue, it also helps minimize your chances of loss to a large extent – as you get to avoid the risk of entering markets that have little to no need for your product or service. Validating your Ideas will also help you discover new and related business opportunities, and design marketing campaigns that will directly target the interests of your potential consumers and in increase your sales.
How to Estimate Demand Online
Assessing historical data is one of the main methods used to determine the potential demand for your new product or service, and this guide will be focused on the use of two online resources that freely provide such data.
Historical Data Sources
If you have ever performed a search online using Google, information regarding that search query has been recorded. Details that are stored will include the search term (keyword(s)), the time the search was performed, the web browser used and your location.
To give you an idea of how much data is available, on average Google Search processes over forty thousand queries every second, which translates to over three billion searches every single day (Source: http://www.internetlivestats.com/google-search-statistics); and Google saves data on all search queries performed using their search engine.
Luckily for us marketers and entrepreneurs, Google shares some of its Search Engines' data with us in form of a few free services, and in the following paragraphs I will show you how you can use these research tools to figure out the potential demand for your products and services.
Google Trends
Google Trends, is an online research tool that analyses data from Google Search to show how often a particular search-term is queried relative to Total Search Volume, across various regions of the world.
This free tool lets you analyse trends or interest levels for various topics or specific search terms over different periods of time, making it very effective at uncovering potential demand and high-low cycles for various types of services or products. Google Trends can also be used to compare the popularity of multiple relevant search terms or topics at once.
To get started, visit Google trends at https://trends.google.com/trends, enter your desired keyword into the box labelled explore topics and hit your enter button.

If you are yet to come up with a product or service idea and you need help figuring this out, Google trends can also be quite helpful.
To do this click on the menu icon and select "explore". On the following page select a target location and a broad category. In this example I have selected Nigeria and Mobile Phones and have found a rising interest in two budget smartphone brands Gionee and Infinix. With this information I have gone ahead to perform a comparison using both keywords (Gionee and Infinix) to find out relative interest levels over a five-year period for these two smartphone brands.

Here are the results:
The numbers in the chart above represent search interest relative to the highest point on the chart for the given time and location. You should also bear in mind that Google Trends does not show absolute search volumes; rather a share of volume from Google Search samples.
These sort of comparisons can be carried out on a maximum of five (5) search terms.
Interpreting Results
If I were a starting a mobile phone retail store and was looking to list products from these two brands, these insights would help me make more sound business decisions as regards the amount and type of inventory I should purchase to re-sell. In this case, the related queries column on the results page also sites details of particular models in order of popularity.

Google Trends can help you discover new products or features that are more in demand or valued by your target market by identifying top search queries and closely related keywords within a specific category or industry, and helping you compare popular products and services of competing brands. This information can be used to improve your offerings, create targeted ads, and capture more customers' attention and generate more sales.
In a situation where you are trying to tap into a gap in the market or create something groundbreaking and your product idea or industry is relatively new or non-existent, Google Trends could help reveal if interest levels in the topic have been on the rise.
After getting a glimpse into the interest levels and trends of your chosen product or keyword, it's time to gather even more data with the Google Keyword Planner Tool.
Google Keyword Planner Tool
Utilizing the Google Keyword Planner Tool is one of the simplest ways to estimate demand for a product or service online. This tool allows you to to perform searches on any topic or keyword to determine how many searches are being carried out every month for that specific keyword or phrase and its related search terms on Google. This is a great start point for figuring out interest levels and potential demand or your products or services.
To use the Keyword Planner tool you need to sign-up for a free Google Adwords account. Create an account here: https://adwords.google.com/KeywordPlanner#start. Once you have created an account, log in to Google Adwords, click on the drop-down that appears at the far right of the top menu and select keyword planner.

On the next screen, click the area labelled "Search for new keywords using a phrase, website or category", add your desired product, service or keyword, select the cities or countries you plan to sell to in the "Targeting" column, pick a time-span under "Date range" and click the Get ideas button.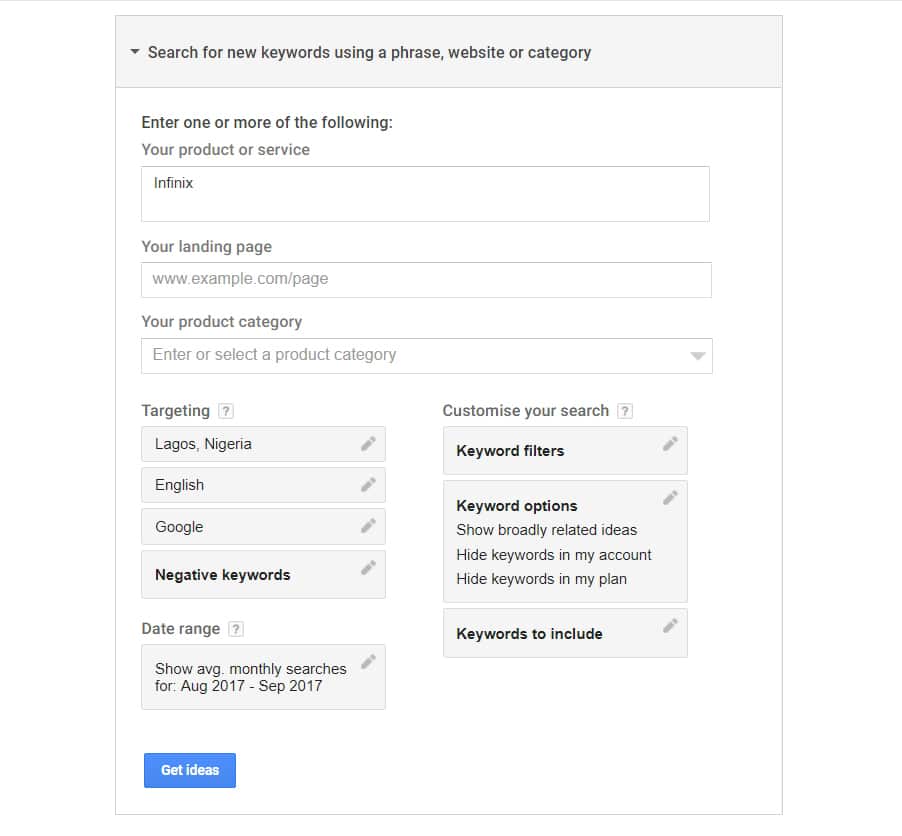 The results on the next screen can be sorted by the following criteria:
Keyword:
Relevance to your search query
Average monthly searches:
The average number of monthly searches for this term and its closely related keywords based on the date range and targeting criteria you have selected.
Competition:
The number of advertisers bidding on each keyword relative to all keywords across Google
Suggested Bid:
A suggested bid is determined by computing the average costs per click (CPCs) advertisers are willing to pay for a keyword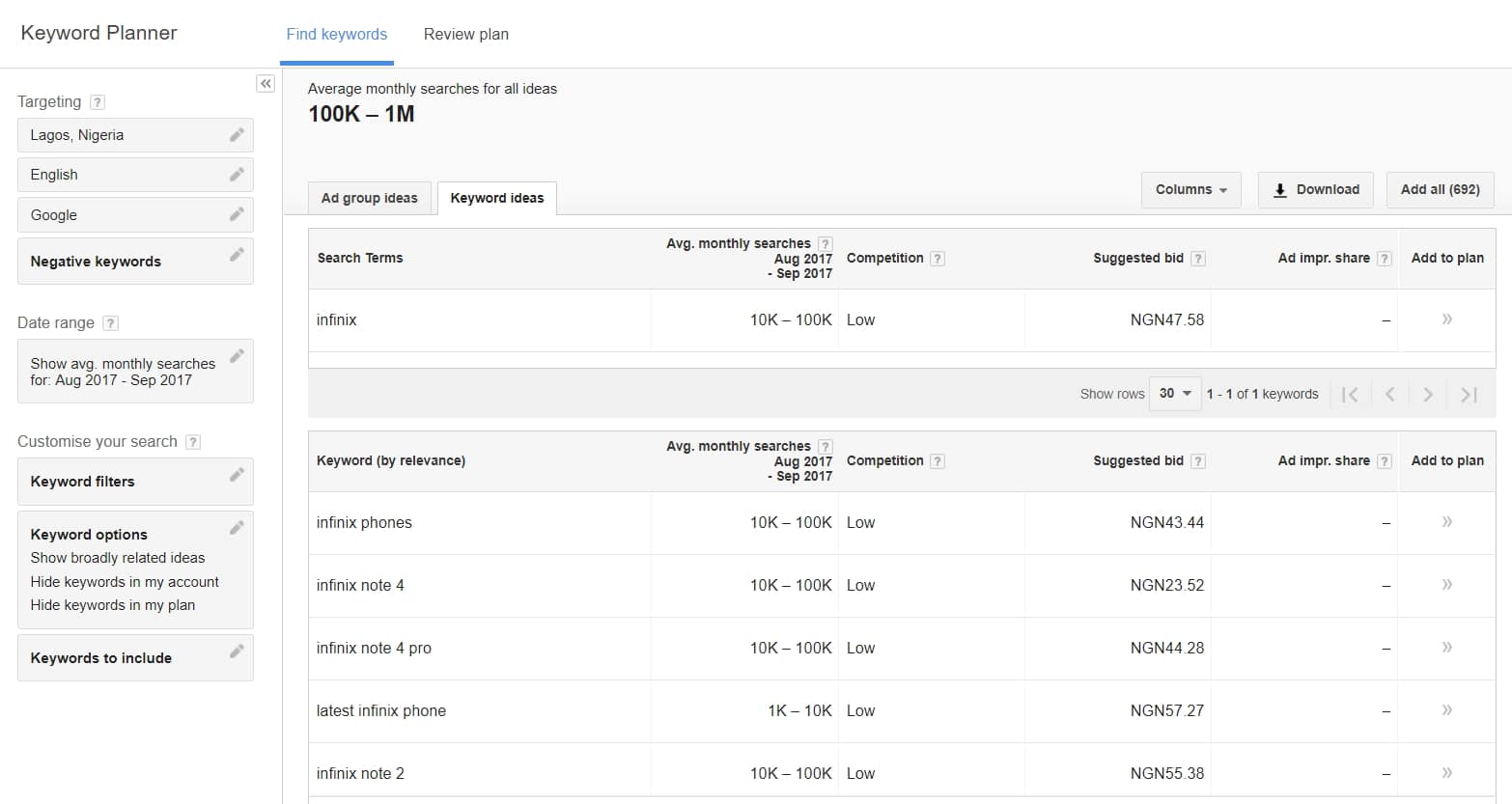 To get a more relevant results, I have chosen to target a single city, Lagos and I have selected a Date range of just one month. This ensures that I get results that are as targeted and recent as possible.
You can also customise your search using the keyword filters at the bottom left of the results page. With these filters you can choose to show only results that include your desired keyword or product. However, by selecting this option, you may miss-out on related keywords ideas and opportunities.
Note: For best results you should try several keyword variations.
A larger number of monthly searches for one particular keyword or phrase does not necessarily ensure a high effective market demand for your product, but it does provide a good starting point – the higher the number of high-volume keyword searches related to your initial search term, the better.
Once you understand the current interest level for your potential or existing products, you can tailor your inventory to match the demand of consumers.
With these simple steps I have been able to come up with a few products I would include in my store if I were to sell Gionee or Infinix phones.
You may also be interested in:
"Facebook Advertising & Targeting Opportunities"
"How To Setup Google Analytics For Your Website"

"Content Marketing Strategies – A Brief Overview"
Final Considerations
As a business or entrepreneur, properly evaluating demand for your products and services is just as important as marketing it – as no matter how innovative, useful, or ground-breaking your ideas are if there is no one willing to pay for them it would be an exercise in futility.
One thing to note is that estimating potential demand using the methods listed above produces results which are typically accurate for business planning in the short-term. Estimating demand for the long-term could be bit trickier because there are quite a number of unforeseen factors that can influence demand over time. For example, these estimates do not take into account the emergence of new trends or an impending economic recession that will affect general interest levels. To forecast long-term demand, you must also account for the social, political and economic history of the markets you plan on getting into.
Let me know in the comments if you have used any of these methods during your Product or Market Research.
---
Ascend is a Web development Agency located in Abuja – Nigeria. We are specialists at website development, online advertising & branding. Contact us to find out more.